Tikka T3 / T3x - titanium superlite v2 bolt handle
Tikka T3 / T3x
Superlite v2 titanium bolt handle - completely skeletonized

Proudly designed and manufactured in the USA - see our website www.BoltKnobs.com
Perfect for shaving even more weight off the Tikka T3x Superlite or for that mountain rifle build! We've had an idea of how to design this handle for some time but it took several iterations and field trips before we settled on a design that ticked all the boxes. An all titanium handle which won't scratch, has a highly tactile grip, and is larger than the original factory handle for better leverage (or for use with gloves).
Usually these attributes equal more weight but we started from one piece of grade 5 titanium alloy (Ti6Al4V) and then went all out lightening the design without giving up any strength or function. Weighing incredibly just 0.57oz (16.2g), it is much lighter than our other T3 / T3x titanium bolt handles when those are combined with either the intermediate (0.77oz / 21.8g) or tactical carbon fiber knobs (0.99oz / 28.2g). Priced very competitively given the material, machining and tool wear costs are higher than anything else in our bolt handle range.

Construction
Manufactured from grade 5 titanium alloy (Ti6Al4V)
Extensively skeletonized and incredibly light.

Weight: 0.57oz (16.2g)
Length: 3.076" (78.15mm) end-to-end
Knob diameter: 0.9" (22.86mm)

Available as a straight handle only (fits both left-handed and right-handed actions)

Available as-machined (silver color)
Harmonics

In some cases, this handle can cause a minor 'ringing' sound when dry fired, mostly limited to when fitted to a fluted bolt body.

We include a custom designed, hollowed-out delrin plug which can be pushed into the inside bore of this handle, which weighs 0.06 oz (1.70 grams)
This plug dampens the harmonics caused by these two components interacting, eliminating any sound.
This plug is a simple press fit, it is completely removable, UV stable, and resistant to all known gun solvents.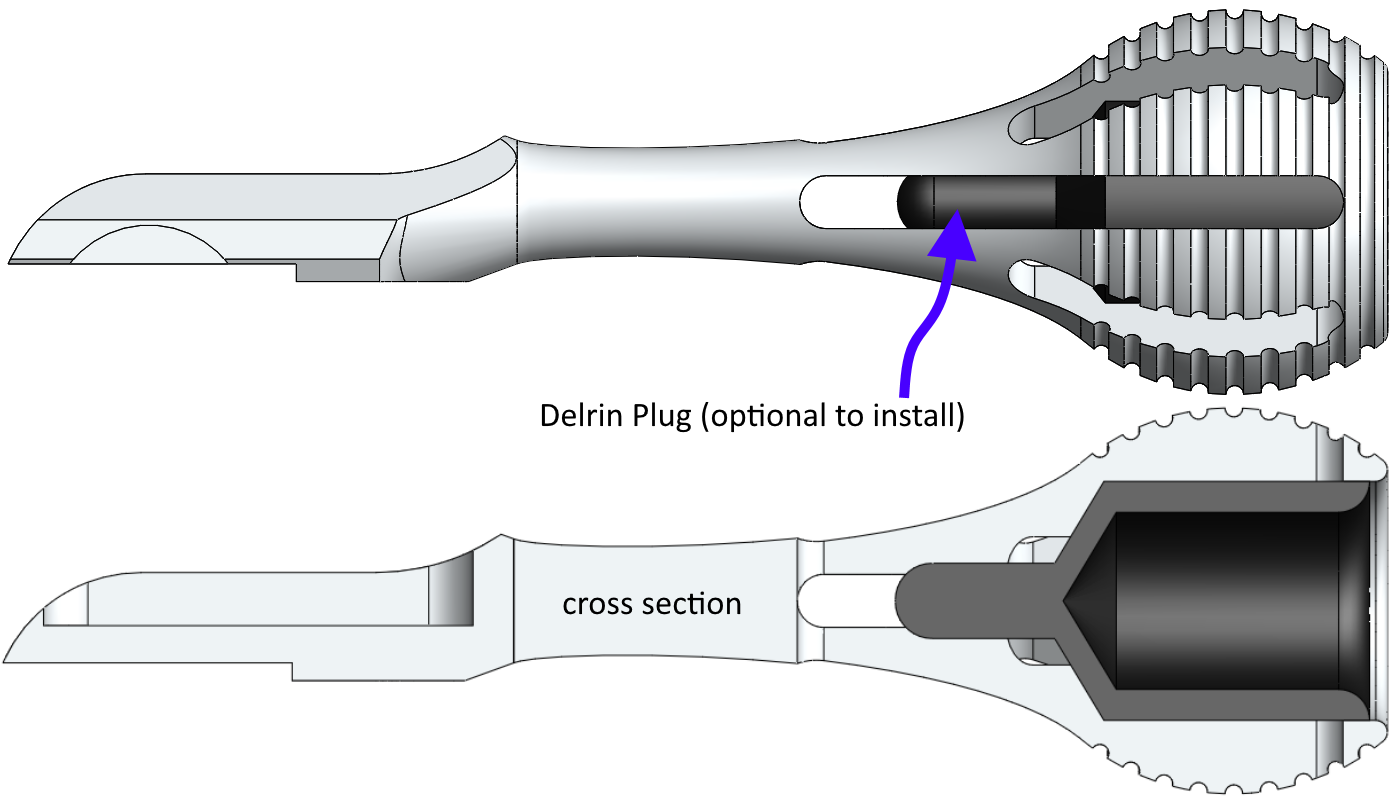 Notes on Tikka factory tolerances
This part may not be a 'drop-in' fit for your individual rifle, some fitting may be required. There exists variations between individual rifles of the slot dimensions in the bolt body where the handle slides into. The angles of this 'dovetail' will vary between individual rifles. Our Tikka T3 / T3x handles are machined in this critical dimension to tolerances of ± 0.025mm (± 0.001") and we verify these dimensions for every single handle before they are packed using EDM-cut go and no-go gages. Variations like this are common with mass-produced factory rifles, in the majority of cases our handle will slot firmly into the bolt body with minimal movement, however in some instances minor filing or stoning of one or both angles of our handle will be required to see it fit. Bear in mind that you are purchasing a handle which has been machined to be a much tighter fit than the mass produced unit that your rifle came with. If in doubt, take it to your gunsmith, or download the fitting guide linked at the top right of this page.